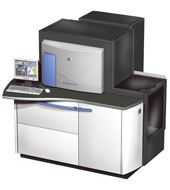 Date: March 15, 2006
FOR IMMEDIATE RELEASE
Church Offset Printing, Inc Adds HP Indigo press 1050
The HP Indigo press 1050 is the latest addition to the state-of-the-art equipment list. Church Offset Printing's new press will allow us to print commercial brochures, sales pieces and high quality catalogues digitally, reducing turn-around times, printing costs and waste.
This HP Indigo press offers high quality digital prints and can produce up to 2,000 full-color or 8,000 single-color images an hour. It has high resolution and additional six-color capabilities, including spot and fluorescent colors. This press also has the ability to print on a wide range of paper which makes it suitable for many current and future printing projects.
The fast turn-around times and cost-effective production of the HP Indigo press 1050 is also helping us to meet our needs even better than we did in the past. This press will prove to be an invaluable tool for new and existing customers.
For more information contact, Church Offset Printing at sales@churchoffsetprinting.com.